Microwave mini lemon sponge puddings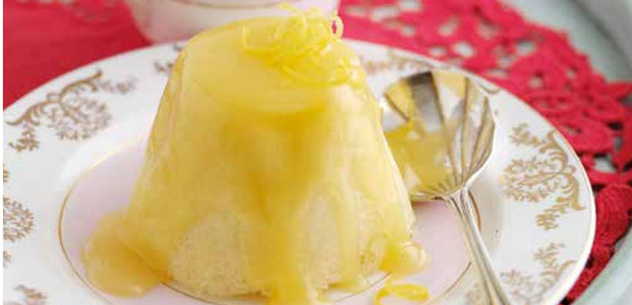 Something sweet after dinner is always a comfort on a colder evening, and it is healthier if you can make it yourself from fresh ingredients. This dish is quick and cheap to make, and any left over puddings can be put in the fridge or freezer for another day.
Preparation time: 10 minutes | Cooking time: 70-80 seconds | Serves: 4
Ingredients
50g softened butter
50g caster sugar
1 lemon, zest and juice
1 large egg
50g self-raising flour
3 tbsps of lemon curd (or other jam as preferred)
Custard, cream or creme fraiche to serve
Method
Grease individual ramekin dishes or small tea cups. (Make sure they are suitable for use in the microwave).
Beat the softened butter, sugar and the grated zest of the lemon with one teaspoonful of lemon juice until light and fluffy, then beat the egg lightly and add slowly to the mixture.
Add sifted flour slowly and beat until absorbed.
Spoon the mixture into the dishes – do not fill above half way as the mixture rises very quickly and is very hot. Cover with a loose lid or cling film and microwave for 70 seconds.
Once the 70 seconds is over, let the pudding stand for 10–20 seconds before testing if it's spongy (the heat transfers with time so it might not seem cooked straight away). To test, carefully press with a finger to see if spongy. If it isn't, try another 10 seconds but do not microwave for too long or the sponge will harden.
Turn the sponges out onto plates and spoon the lemon curd or jam over the top.
Serve on its own, with hot custard or a little cream or creme fraiche.
For more information call the Age UK Advice Line on 0800 678 1602.
We're open 8am to 7pm, every day of the year.