Butternut squash and mushroom wellington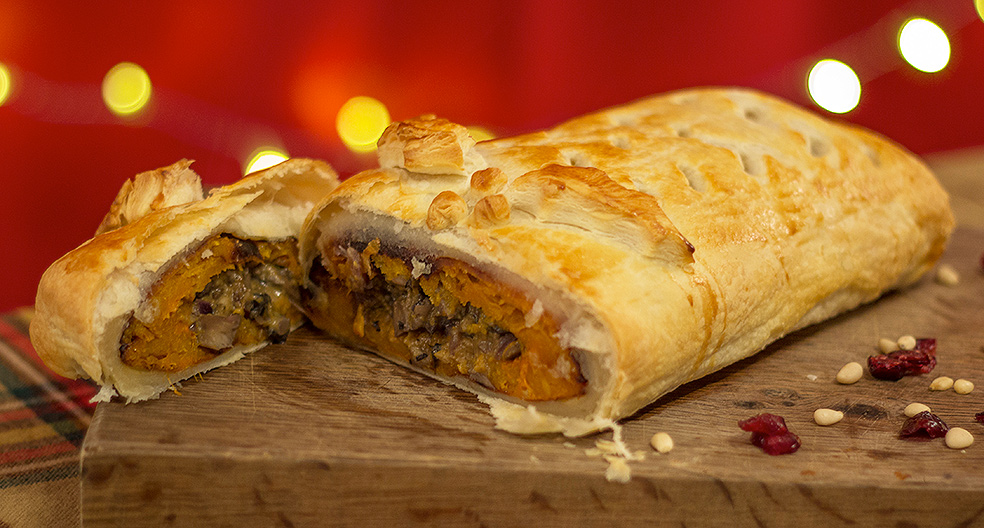 Roasted butternut squash filled with a rich, creamy mushroom sauce and enrobed in a thick layer of crunchy puff pastry. A perfect Christmas dinner centrepiece, especially if you've got vegetarian guests.
Preparation time: 1 hour | Cooking time: 1 hour 30 minutes | Serves: 5
Ingredients
1 butternut squash
2 onions, diced finely
3 garlic cloves, crushed
250g mushrooms, diced
A handful of fresh thyme (or 1/2 tbsp dried thyme)
A sprig of rosemary (or 1/2 tsp dried rosemary)
40g dried cranberries
20g pine nuts (walnuts and pistachios will also work well)
50ml double cream (or low fat creme fraiche for a healthier dish)
1x500g pack of ready to roll puff pastry
Salt and pepper, to taste
Method
Preheat your oven to 200C/180C fan/gas mark 6.
Peel and halve the butternut squash. Remove the seeds and flesh.
Cover in olive oil and roast in preheated oven for about 45 minutes. This is also a good time to remove your puff pastry from the fridge so it has time to warm up.
While the squash is roasting, heat 1tbsp oil or butter in a pan on a low/medium heat. Add the diced onion and fry until translucent.
Add the crushed garlic and fry for a further 2 minutes, then add the mushrooms.
Once the mushrooms have softened and shrunk, add the thyme and rosemary. Continue cooking for a few more minutes until the mixture is soft and well browned.
Add the cranberries, nuts and cream, and stir to combine. Season to taste.
When the squash is ready, remove it from the oven and scoop out the insides so that the butternut squash shell is about 1cm thick. Stir what you've scooped out of the squash into the mushroom mixture.
Fill the cored butternut squash with the mushroom mixture and set aside.
Roll out the puff pastry into a rectangle

–

it should be the thickness of a £1 coin and be rolled out large enough to cover the whole squash.
Now stick both halves of the squash back together and place in the middle of the rolled out pastry.
Wrap the pastry around the squash. Once wrapped around, the layers should only overlap by about 2 cm. Stick them together with some whisked egg or milk. Cut off any excess pastry at the ends and stick these down with egg or milk too.
Place the wellington on a baking tray so that the pastry seam is face down. Brush more egg or milk over the top of the wellington. If you want, use the excess pastry to make some Christmas shapes like holly leaves and stick those on top.
Make some incisions in the pastry with scissors or a knife, then bake for 25-30 minutes, until the pastry is nicely browned.