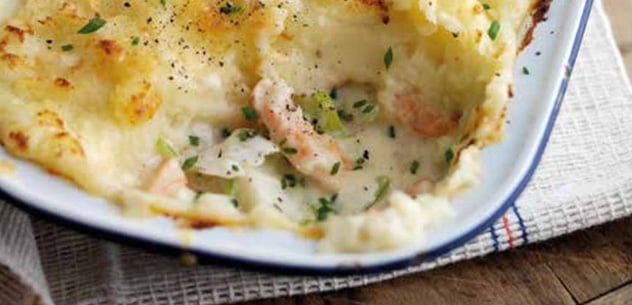 This fish pie provides a balanced meal, with potatoes for carbohydrate and vegetables giving vitamins and minerals. White fish contains protein, and oily fish such as salmon is a good source of the omega 3 fats that doctors recommend for their heart protective properties. You can add chopped parsley instead of cheese to the sauce to lower the saturated fat content.
Preparation time: 5 minutes | Cooking time: 60 minutes | Serves: 2
Ingredients
A packet of prepared fish for fish pie; or a selection of mixed chopped fish such as smoked haddock, cod and salmon (330g approx.)
450ml milk
450g potatoes
1 leek, chopped
75g butter
1 tbsp plain flour
1 tbsp chopped chives
50g cheddar cheese, grated
Black pepper
Method
Put the fish in a shallow saucepan and add the milk. (If the fish has skin on, put it in skin side up to prevent it from sticking). Put the lid on and bring to the boil, then simmer for five minutes. Turn off the heat and leave to cool.
Meanwhile peel and chop the potatoes, and boil for 20–25 minutes. Once cooked, drain the potatoes, and mash with a little extra milk or butter. Steam or boil the leeks for seven minutes until soft.
Once the fish is cool enough to handle, pour the milk it was cooked in into a bowl or measuring jug, and flake the fish into an ovenproof shallow dish, discarding any skin or bones. Add the leeks.
Melt the butter in a saucepan, and add the flour. Cook over a low heat for a couple of minutes, stirring all the time, then add the milk that the fish was cooked in, a little at a time until it thickens. Season with chives and pepper. Whisk to ensure there are no lumps and then keep stirring, adding a little extra milk if needed, to make a thick, smooth sauce. Take off the heat and stir in half the grated cheese.
Pour the sauce over the fish and leeks. Cover evenly with the mashed potato and use a fork to make patterns on the surface. For extra flavour, add the other half of the grated cheese to the top.
Bake in a moderate oven on gas mark 4/180°C/350°F for 20 minutes, or until the top is golden and the fish mixture underneath is bubbling. Serve with peas, runner beans or broccoli.
For more information call the Age UK Advice Line on 0800 678 1602.
We're open 8am to 7pm, every day of the year.